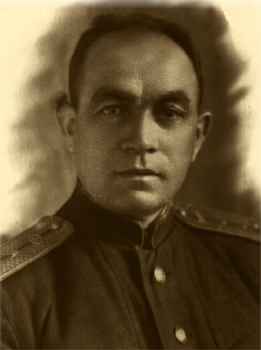 1907-1987
Was one of the most respected people of the Dilbazi family. He lived a life full of hardships, was taken captive by the Germans but could survive.
Mustafa Gadjiev was born in the village Khanlyglar. He finished the Gazakh town gymnasium. After the gymnasium he worked as a teacher, principal, inspector of the department of public education in Basarkecher (today - Noyambrian) district of the Armenian SSR.
In February - March 1931 when the Bolsheviks' repressions raged in the villages of the Gazakh district he could escape his sad lot: in 1932 wishing to get a higher education he left Basarkecher. He entered the Tbilisi Institute of Railways but because of his "bek surname Dilbazi" was later expelled
from this educational institution. However, the next year having changed his surname to Gadjiev he was admitted to this institute.
The kind people knew his "exploitative past" but did not betray him. In 1938 Mustafa graduated from the Tbilisi institute with the degree of "Engineer-rail man" and was sent to work as a head deputy of the Tikhoretsky station in the North Caucasus. In the fervor of the war in 1942 he was drafted into the army and took part in the battles near Mozdok and Ordzhonikidze (Vladikavkaz). On November 3, 1942 the 134th rifle regiment in the ranks of which he fought was surrounded by the Germans.
According to his own explanation, before April 20, 1944 they being in the ranks of the labor battalion carried out difficult tasks in Prokhladnoe, Temruk, Odessa and Kherson towns. Then they were transferred to the former Yugoslavian town Sarajevo and later to Austrian Bermstein. They were delivered from captivity only after the capitulation of Germany.
After going through the filtration in the soviet camp situated in the town Kafenberg Mustafa Hadjiev was included into the alternate regiment. Until 1946 he served in the ranks of the labor battalion in Voroshilovgrad. After the demobilization he was appointed engineer-consultant at the Azerbaijan Railway Administration. At the same time he taught at the Technical college under the Administration of the Azerbaijan Railway.
Mustafa Gadjiev worked for almost 30 years at the Railway Administration holding different positions. All his three children got a higher education. Tofig was an economist. Sima and Yasemin worked as doctors.
Subscribe
Keep up with the news