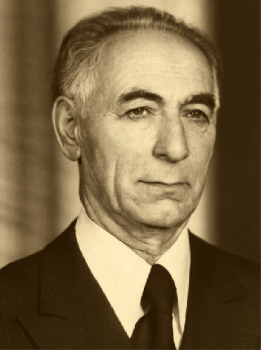 1908-2000
Candidate of zoo technical sciences (1953)
Honored veterinary doctor of Azerbaijan (1992)
He was one of the most respected representatives of the Dilbazi family.
Hadji Dilbazi was born in the village Khanlyglar and re- ceived the primary education in the village school. He grad- uated from the Gazakh Pedagogical College and worked as a teacher in Shamkir, was head of the district department of education.
His father Ismail aga (1861-1942) in his young years was deported by the tsar government to Siberia for 25 years for committing a murder (1883-1907) and was deprived of "all rights and privileges". However, his relatives periodically sent money to him. By his nature he was a resolute and pro- gressive man. He fluently spoke Russian and did not wear national but European clothes which was the reason why they called him "Rus Ismail aga" (Ismail aga, the Russian). They recall that he gave the village school the freedom of his large house. Though at first the soviet government was favor- ably disposed towards the man who "had been exiled by the tsar regime" at the begin- ning of the 30's Ismail aga came to the attention ofthe so- viet punitive agencies. When the February operation of 1931 began his name was included into the list of people subject to repressions but he managed to escape his lot at the very last moment. He lived almost half legally at his son's in Ganja where he passed away. He was married to Pery khanum and had four daughters and a son Hadji.
In 1936 Hadji Dilbazi entered the zoo technical faculty of the Azerbaijan Agricultural Institute (present Azerbaijan State Agrarian University in Ganja town). When the war be- gan he was holding a very responsible position in Samukh district and had an exemption from active duty.
In the post war years he was engaged in teaching activ- ity at the Azerbaijan Agricultural Institute where he worked as an assistant and then a senior teacher. Having defended his thesis he was awarded with a scientific degree of a candidate of sciences. For all his life he had worked at this institute.
Hadji Dilbazi is author of the scientific work "Loin dis- eases of live-stock animals" (1985) and a number of other researches.
He died and was buried in Ganja. Hadji Dilbazi had three children who have followed their father's path by choosing agrarian professions.
His son Ismail Dilbazi (1947) graduated from the faculty of agronomy of the Azerbaijan Agricultural Institute and held responsible positions at the Ministry of Agriculture. In 1976 he began to work at the Internal affairs body and retired holding the rank of lieutenant colonel of police. He is married and has three children - sons Azer, Hadji and daughter Peri.
Daughter Gulruh Dilbazi (1949) graduated from the zoo technical faculty of the Azerbaijan Agricultural Institute, holds a scientific degree of a candidate of sciences. She worked at the Agrarian Academy. She was awarded with the order "Tereggi" (2011) in recognition of her contribution to the development of agriculture in Azerbaijan. Married and has two children.
Son Vagif Dilbazi (1953-2011) is also a graduate of the Azerbaijan Agricultural Institute. He was a zoo technician by profession and till the end of his life held responsible positions in the system of the customs committee of the AR. Was married, has two children.
Awards
Honored veterinary doctor of Azerbaijan

12-01-1992

Candidate of zoo technical sciences

15-04-1953
Subscribe
Keep up with the news