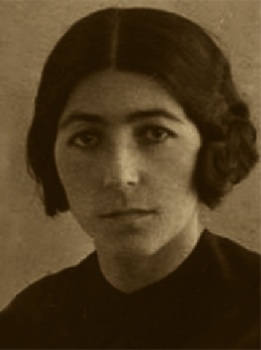 1910-1994
The national poetess Mirvarid Dilbazi who is Yagut Dilbazi's sister may be considered her best biogra- pher. Her novel "Tears over the violets" contains many warm words about Yagut. Yagut Dilbazi was born in Khanlyglar. Her father was Pasha aga Mamed-Kerim Aga oglu Dilbazi (1880-1918), her mother - Javair khanum Mustafa aga gizi Miralieva (1888-1958).
In 1927 Yagut and her sister Mirvarid successfully finished the seminary in Baku. Yagut returned to Gazakh with a teacher's diploma where she lived until 1930. Mirvarid stayed in Baku.
After moving to Baku Yagut Dilbazi taught at school No: 19, graduated from the Pedagogical Institute. In 1936 she married scholar-philologist Mirza agha Guluzadeh (1907-1979). They had a son Vafa (1940-2015).
Mirzagaga Gulizade became a leading and famous scholar-philologist. He was an author of many major works. Yagut khanum taught the Azerbaijani language for 25 years in higher schools of the Republic. Her novel "Love does not get old" came out in 1978 and her second novel "White lilac" was published in 1984. In 1991 her two novels were published as one book by the publishing house "Yazichi" (Writers) . Literary critics were complimentary about these novels.
Their son Vafa Gulizade was widely known both within the country and beyond its borders as a professional diplomat and political analyst, author of a number of books dedicated to the relevant political issues of the today's world. He was the State Secretary for Foreign affairs of Azerbaijan Republic from 1990 till 1999 and also headed the Political Investigation Fund of Caspian region countries (among the members of the Fund were Henry Kissinger, Zbigniew Brzezinski, James Baker and other politicians).
Subscribe
Keep up with the news