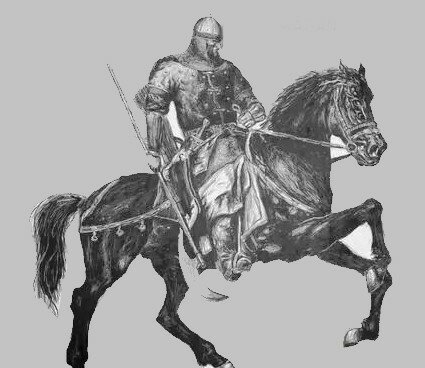 1842-1895
He was one of the sons of the village aghalars Huseyn aga Dilbazoglu. According to another document, Ragim aga was born in 1834 in the village Khanlyglar of the Gazakh mahal (district). He received a good education, was fluent in Russian. In his young years he served in His Imperial Majesty's Own Guards in St. Petersburg in the rank of a cornet (the first grade of commissioned officer in the Russian cavalry troops appointed to noblemen who joined the military service).
We also know the names of other Gazakh agahlars' sons who served in the 70's of the XIX century in the IV platoon of the Imperial guard of the Caucasian Squadron of His Im- perial Majesty's Own Guards. They are the platoon commander lieutenant Mamed aga Gaibov, warrant officer Khalil aga Vekilov, warrant officer Mamed-Kerim aga Gaibov (1887),warrant officer Aga bek Giyasbekov and others. They served in the guard squadron which consisted of the noblemen of the "Caucasian Tatars". They wore national clothes with the Russian decals, had food of the national cuisine, got a salary in the amount of 414 roubles per year, guarded the buildings, residences, accompanied the Emperor and the members of the tsar family, took part in different solemn events.
Cornet Ragim Aga retired most probably due to a serious injury as according to some documents he was lame of one leg. According to some sources, during the military service he was awarded with the order (or a medal as the members of this service were awarded with silver medals with the inscription "For the service in the personal guards of His Emperor's Majesty Alexander Nikolaevich Romanov").
After the service he lived in his native village, and as a land owner was engaged in farming and livestock breeding. He used to spend summer with his family in the mountain place called Armudlu. He was one of the most influential Gazakh beks and supporter of the European education.
In 1822 with the start of urban planning in the new district center cornet Ragim aga also bought a plot of land to build a mansion (plot 10).
He was buried in the Dilbazis' family graveyard in the place called Baba Dervish. The grave stele has survived to present days.
Ragim aga and Sayaly khanum had 6 children - Chingiz aga, Pasha bek, Iskender aga, Mansur bek, Peri khanum and Munavvar khanum.
Subscribe
Keep up with the news